Arts at Tenri presents
Friday, May 8, 2009, 8:00 pm
In Between Traditional & Contemporary

Yumi Kurosawa – Koto

Guest Artist: Marianna Rosett, Piano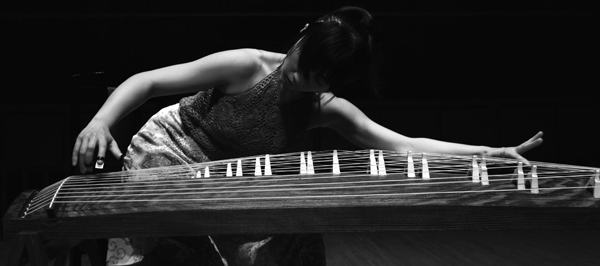 Program
Green-Point (2006) composed by

Yumi Kurosawa

Inner Space (2002) composed by

Yumi Kurosawa

MIDARE (1661~1673) composed by by

Kengyo Yatsuhashi

Amazing Grace (traditional)

SAKURA Variation composed by

Bondai Fujii

Summertime composed by George Gershwin, arranged by

Yumi Kurosawa

MUGONKA (2009) composed by

Takashi Niigaki

- World Premiere

One Girl's Story - for Story Teller (2008) composed by

Yumi Kurosawa

Rapture - Independent Shot Animated Film (2003) composed by

Yumi Kurosawa

Improvisation by Koto and Piano,

Yumi Kurosawa

and

Marianna Rosett
Yumi Kurosawa has had extensive performances in Japan include worldwide concert tours to Canada, Germany, Malaysia, Russia, and United States. In 2002, Kurosawa moved to New York in pursuit of new innovative collaborations with artists and musicians. 2009 : Performed in live music performance "LIFE AFTER DARK" at Apollo Theater SalonSeries. 2008: Performed HANA ICHIMOMME at Bank Street Theater, NYC *Performed at APRU (Asian Pacific Rim University) annual meeting ceremony in Tokyo, Japan *Lectured on Art Cart Education Program(Lecture concert for family) at Japan Society, NYC *Ensemble East Concert at Eastman School of Music 2007: *Performed at Pulse Jazz Composers : Sihr Halal Concert at Roulette, NYC *Performed at Hogakuten Concert in Tokyo, Japan *Performed at Muse concert at The Juilliard School(Played solo and with Orchestra) 2006: *Joint recital with Dozan Fujiwara(Shakuhachi) in Yamagata, Japan *Yumi Kurosawa Koto Recital at Weill Recital Hall at Carnegie Hall 2005: *Meredith Monk 40th Anniversary Concert at Zankel Hall at Carnegie Hall *Theater [Deadly She Wolf Assassin at Armagedon] at Japan Society, NYC and Philadelphia 2000:*Performed on NHK Broadcast TV program [Genjimonogatari-Wakana] Tokyo, Japan 1993:* Performed with Evjan Rattai of Prague Cello Ensemble at Suntory Hall in Tokyo, Japan 1989, '92:*Received First Prize in National Koto competition for students, Japan. She studied Koto under Chikako & Kazuo Kurosawa, Nanae Yoshimura and Sosui Yoshimura. Her CD will be released in 2009. www.myspace.com/yumikurosawakoto

Born in Transylvania Romania. Pianist and composer Marianna Rosett is at the forefront of classical improvisation today. She performs solo recitals internationally, composes for film, dance and television. Former Juilliard faculty she gives master classes in improvisation and teaches in New York. New CD & Book will be released in 2009. Ms. Rosett holds a B.S. and Master degree from the Juilliard school. www.myspace.com/mariannarosett

The Koto is a string instrument that originated in China and came to Japan in the 7th-8th century. The Japanese koto is a large instrument, about six feet long, consisting of a hollow body made from Paulownia wood (kiri). Underneath the body are two sound holes, one at each end. There are 13 strings each the same size and same tension. Movable bridges, called a ji, are placed along the length of each string. The ji lift the strings off of the body so that they will resonate when plucked. The strings are tuned by sliding the movable bridges back and forth.

At first the koto was used only in court life but, later it was played mainly by blind musicians. (Almost all Japanese pre-modern music was played by blind musicians or monks and court people.) In the17th century (Edo period), Yatsuhashi Kengyo (1614-1685), a blind koto master, succeeded in making the koto a solo instrument by composing many new pieces for the instrument. Thus he is known as the father of modern koto music. In the 20th century, Michio Miyagi (1894-1956,) who was also a blind koto player, modernized the koto yet again by introducing western styles of music in his compositions.
The Place
Tenri Cultural Institute
43A West 13th Street, New York, NY
(212) 645-2800

Tickets


25 general, 20 students/seniors