Arts at Tenri presents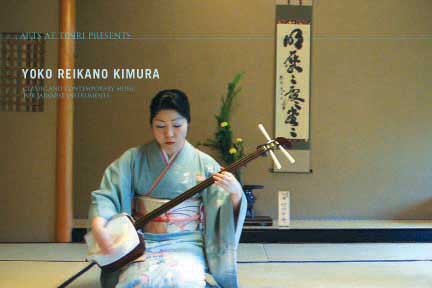 Yoko Reikano Kimura
CLASSIC AND CONTEMPORARY MUSIC FOR JAPANESE INSTRUMENTS
On Friday evening May 9th, 8:00PM, ARTS AT TENRI will continue its 2007-2008 season with a performance by Yoko Reikano Kimura, Yamada school Koto and Shamisen virtuoso. This program reveals the complexity, versatility and range of traditional Japanese instruments and features contemporary compositions as well as works from the Edo period. Reikano, whose vocal style is both forceful and dramatic, was trained in the Yamada School. The program includes guest artists Cathleen Ayakano Read on koto and voice (from the same school), and James Nyoraku Schlefer on shakuhachi. This concert is part of the monthly concert series presented by Arts at Tenri showcasing the chamber music traditions of Japan and the West.

Yoko Reikano Kimura, Koto, Shamisen, and Voice
Cathleen Ayakano Read, Koto and Voice
James Nyoraku Schlefer, Shakuhachi

1 Yasou-kyoku / Nocturne (Takeshi Sasamoto) 1990
2 Kagerou-no-Odori (Kinichi Nakanoshima) 1925
3 Duo No.1 (James Nyoraku Schlefer) 2004
4 Suite for Sangen (Lou Harrison) 1996
5 Sarashi (Hukakusa Kengyo) Edo period
6 Miyako-no-haru (Yamase Shoin) Edo period
7 Mutsura-boshi / The Pleiades (Katsutoshi Nagasawa) 1978

Yoko Reikano Kimura graduated from Tokyo University ofFine Arts and Music. After, she was elected as a trainee by the Agency of Cultural Affairs. And also, she was award first prize at National Koto Competition in 2003. Since 2004 she has joined the world tour of the musical theatre. She is currently taking part in a wide range of activities including recording traditional and contemporary music. She hopes to diffuse traditional Japanese music and cross-culture music to people of all ages, all nationalities.

Ayakano Cathleen Read began studying Yamada School koto music in 1969. She holds the urayurushi, nakayurushi and okuyurushi certificates of performance ability. On January 7, 1974, she became the first non-Japanese to join the shachu (musicians' guild) of Nakanoshima Kin'ichi and was given the performing name Ayakano. Her teacher was Ichimura Ayano, a pupil of Nakanoshima Kin'ichi. Ayakano has performed widely in the United States, Japan, and Africa at museums, universities, and concert halls, on radio and television. Ms. Read has a BA from Mount Holyoke College and a Ph.D. in Ethnomusicology from Wesleyan University. She is Adjunct Lecturer in the Music Department of Tufts University.

James Nyoraku Schlefer is a leading performer and teacher of shakuhachi in New York City. He has appeared at numerous performance venues, including Lincoln Center, The Kennedy Center, Tanglewood, on NPR's All Things Considered, and the Metropolitan, Brooklyn and Philadelphia Museums, in addition to frequent appearances on the concert stage. He travels annually to Japan to seek out and learn different styles of traditional shakuhachi music, their history and lore, and to keep abreast of current trends and performers. An active composer Schlefer sensei's music reflects his New York City upbringing and deep appreciation of western classical music, rock, and traditional music of Japan.

The excellent acoustics and intimate gallery setting of the Tenri Cultural Institute create a superb setting for listening to chamber music, and ARTS AT TENRI offers audiences the rare opportunity to hear both traditional and contemporary music from two cultures in a setting similar to the music rooms of the courts and castles of both Europe and Japan. Over 300 years of chamber music tradition will be presented throughout this series. Piano trios and string quartets from the great composers of Europe will alternate with music from Japan's Edo period written for the standard trio of shamisen, koto and shakuhachi.

The Place
Tenri Cultural Institute
43A West 13th Street, New York, NY
(212) 645-2800

Tickets

$20 general, $12 students/seniors. At the door: $25 general, $15 students/seniors