Arts at Tenri presents

Members of the Tenri Chamber Ensemble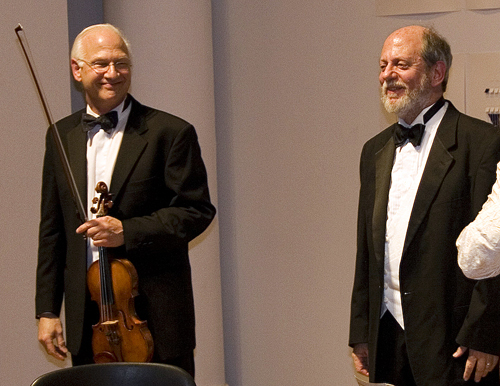 Sunday, January 18, 2009, 3:00 pm

Theodore Arm, violin
Albert Lotto, piano
A program of duos for violin and piano

Mozart: Sonata in F Major K. 377

The three Sonatas, K. 376, 377 and 380, are the product of his first weeks and months of freedom from Salzburg serfdom. Scholarship is nowadays rightly wary of extrapolating biographical stuff from pieces of music, but these three capture the essence of Mozart at that moment of change.BEETHOVEN: Sonata for Violin and Piano in C minor, Op. 30, No. 2
Beethoven composed the Sonata for Violin and Piano in C minor, Op. 30, No. 2 in 1801-02.
Beethoven: Sonata Number Seven in C Minor

The character of the sonata comes as something of a surprise: it doesn't quite display the heart on sleeve passion that we associate with Beethoven in C minor. Like the "Tempest" Sonata, it is a knotty work, hinting at intense but repressed emotions. Each movement opens softly, with the piano alone (a holdover, perhaps, from the days when all such duo sonatas were billed as "for piano with violin accompaniment"), and for most of the way our stereotypical Beethoven the thunderer yields to Beethoven the rumbler.
Brahms: Sonata Number One in G Major

Much to his credit, Brahms, though a formidable pianist (and you know how "front and center" pianists like to be) reined in the piano so that his approach to the violin sonata was not unlike that of vocal music. The piano provides an accompaniment to the violin, which like a vocalist, gets to sing the melodies. As a matter of fact the third movement of this sonata is based on two songs from Brahms Op.59, Regenlied (Rain Song) and Nachklang (Memories) whose lyrics evoke rain.

*Program is subject to change

The Place
Tenri Cultural Institute
43A West 13th Street, New York, NY
(212) 645-2800

Tickets

$25 general, $20 students